I hear, I forget.
I see, I remember.
I do, I understand.
And Now, through JLTP,
I Question, I Think.
I Think, I Create.
The Developer:
Dr. John Langrehr
Dr John Langrehr is a world renowned author and researcher with a keen interest and special focus on developing and evaluating creative and critical thinking. He has taught in US and Australian universities over the past 30 years.
Dr John Langrehr also speaks at national and international thinking and gifted conferences. The John Langrehr Thinking Program (JLTP) is a unique program specially developed by Dr Langrehr for young children.
Books
Dr Langrehr has written over 25 books. Many have been published in America, Canada(French), Australia, Singapore, China, India, Malaysia, Mexico and Saudi Arabia (Arabic). Some publications include: 12 modules of the Parenting with the Brain in Mind series (incorporating areas such as Creative Thinking, Critical Thinking, Helping Students to ask themselves better questions, Measuring Learning Styles and Mnemonics – a powerful tool for remembering), Becoming a Better Thinker, and Teaching Children Thinking Skills.
Creative thinking involves inventiveness, risk taking, and the ability to use imagination in order to escape the usual, dominant patterns that blinker the way we think about things. Critical thinking involves inquisitiveness, judging and making decisions. It requires clear, open-minded, objective and flexible thinking." – Dr John Langrehr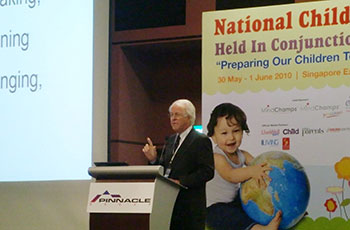 Keynote Speeches
An avid speaker, Dr. Langrehr has been invited to speak in various International Conferences across Australia, the United States as well as in Singapore. He has also conducted many workshops and seminars for students as well as for adults.
Articles & Research
Dr Langrehr has published more than 100 journal articles, which include: Learning Styles, Emotional Intelligence, Metacognition, Teaching Children to Think Creatively as well as Recognising Intelligent Students.
Dr. Langrehr has also conducted research in the areas of Testing and Developing Creative thinking and Critical thinking, Learning Styles and Personality Types, Brain Functioning, Multiple Intelligence and Pattern Recognition and Thinking Skills and Metacognition.